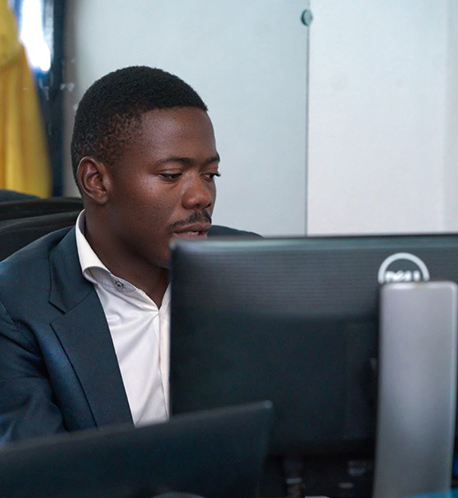 Staff Augmentation & Dedicated Team
We provide you with trainned, certified and experienced software developers working for you remotely from our offices. Whether you want to fill some skills gap in your in-house team or you want to constitute a dedicated team for a project.
Hire trainned and certified engineers for your software projects
We provide you with trained and certified engineers, who have the skills and experience to work on software projects of any size. These engineers are certified in mordern technologies and frameworks required in buiding robust software. Hiring software engineers from us will save you the cost and hassle of hiring and managing in-house developers for your software projects.
Why you should hire our software engineers
No recruitment process needed
No need to worry about the expenses and time involved in hiring an engineer or assembling a team of high quality software engineers. We already have within our workforce the enginners you need.
Quick and easy team setup
Our software engineers already have a mutual understanding from successfully working together on several projects and can focus on quickly integrating into your development process.
We take care of daily management
We provide a supervisor who ensure process transparency, efficiency, required results at each stage of your project, and alignment with your goals, so you can focus on the core parts of your project.
Work with trained and certified engineers
Through rigourous and continuous training, our engineers are certified in many technologies. Their talent and experience will garantee your project's success.
What are the
hiring options ?
Staff augmentation

We make available an engineer, fully equiped with the skills needed for the task, to join your team and work remotely from our offices under your project manager within the life span of the project.

Dedicated Team

We put together on your behalf a development team responsible for specified project tasks to collaborate with your in-house development team or other vendors, while working remotely from our offices.

Full project outsourcing

You entrust end-to-end software development project to us. This way, you can save up to 30% in development costs as you don't hire, onboard, and train full-time tech staff.
We have engineers trainned and certified in the following technologies
Web Frontend
HTML
CSS
Javascript
Angular
Web Backend
Node Js
Java
Spring
Mobile
Flutter
React Native
Desktop
Java
Databases and storages
MySQL
Sql server
Postgre SQL
Oracle
DevOps
Docker
Jenkins
Ansible
Kubernetes
GitLab
Azure DevOps
Testing and test automation tools
Karma
Jasmin
Junit
Insomnia
Postman
Do you need engineers for your software project ?
Feel free to contact us through all our communication channels and book a working session with us
Hire us
See our works
Top